Mumbai, September 20 (UNI) In the Hindi film Cinema, Tarachand Barjatya is remembered as a filmmaker who has made a special identity in the hearts of audiences for nearly four decades by making family and clean films.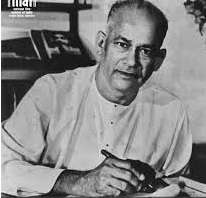 Tarachand, the great producer known as "Sethji" in the film world, was born on May 10, 1914 in a moderate family in Rajasthan. He completed his graduation from Vidyasagar College, Kolkata. His father wanted him to read and write but he had to leave his education in the middle of the family's economic condition.
He came to Mumbai in 1933 in search of a job and joined a film distribution company called Moti Mahal Theaters Private Limited where he was paid 85 rupees.
Delighted with his work in 1939, the Distribution Company took him as General Manager and sent him to Madras. Upon arriving in Madras, Tara began to work a little harder. Seeing his work, the owner of Moti Mahal Theaters asked him to start his own company and promised to help him with it. Tarachand found this to be true and intended to open his own distribution company.
On August 15, 1947, when the country was liberated, he started his own company called 'Raj Shree' and the first movie he bought was 'Chandra Lakha'.
Under the banner of Gemini Studios, the film was a superhit which benefited him greatly after he became a permanent distributor of Gemini.
Later, Tarachand attracted many South Indian producers to make Hindi films.
ABM Angel.
Film makers like Venice, Pakshi Raj and Prasad Productions, with their cooperation, switched to Hindi film production and later became very successful.